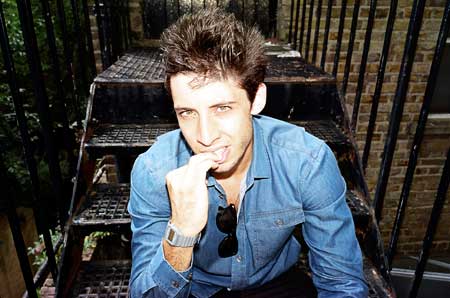 Popjustice's huge feature on the forthcoming Example album!
"Your attention please : the new Example album is rather good"
A couple of years ago a rapping chap by the name of Example released a half ropey/half quite good album on Mike Skinner's Beats label. It all sort of went a bit tits up but in the time since it going tits up Example has:
1. Written some pop songs.
2. Signed a new deal with Data (ie Ministry).
3. Been recording near London with Metrophonic, under the stewardship of legendary 'tunesmith' Brian Rawling. A man called Brian who was partly responsible for 'Believe' for Cher, you say? A recording studio in the countryside just outside London, you say? A team of writers and producers working on music for a succession of artists, you say? 'It will never work.'
Anyway what's happened as a result of all this isn't exactly an about turn on what Example was up to before - the last album had Kylie and The Carpenters in it, for a start - but it's a more focused pop sound with sensibilities that are a) underground b) overground c) Wombling-free. As well as working with the Rawling brigade Example's also been working with people like Pascal Gabriel, Chase & Status and Calvin Harris. Multi-producer albums often have a slightly messy and uptight feel about them; this one flows and makes sense and, having had the chance to live with some of these tracks for a few months now, we can report that some of them are VERY GOOD INDEED."
This is not the full feature - read it on Popjustice here, and hear 5 snippets of the album!